My friend Lenneke is a great story teller. She's one of those people you could listen to for hours and when she talks about her entirely unconventional career path she always has me completely spellbound.
When I heard she'd been made redundant from her latest career and had decided to relaunch her Etsy store, Cheeky Little Monkeys Jewellery, I just had to share her story with you. (Pssst… there's also an awesome giveaway at the end:-)).
So Len, from planes to pegs… how did you end up as a jewellery designer?
My first job out of uni was as an aerospace engineer. On my first day on the job the boss told me 'You were hired to fill a female quota'. I looked him in the eye, smiled and said 'Thank you for the opportunity'.
My rebellion was to dress as femininely as possible. I even wore pigtails to work, to remind them I was the 'female quota'.
I hated that job. Though it did pay well and helped fund a year of travelling around the world.
Then you moved on to cars, right?
When I came back to Australia I found work in automotive engineering.
Soon after, I moved with my partner (now my husband and father of my two children) to a small country town with limited job opportunities. I'd done retail sales while studying at uni so decided to try my hand at real estate sales.
Real estate? Whaaaat?
I loved it! I don't think I ever really had the killer streak needed to be very successful though. I loved helping find people houses but was always dismayed if they were hostile towards me. I think some clients expected me to fit the stereotype of the sleazy, pushy real estate agent.
On the road again…
We moved again for my husband's work, this time to Brisbane. I had no idea what job I wanted to do but I knew my strengths. I met with a recruitment consultant and asked her to match me with a job that was looking for my skill and personality profile, rather than a specific job.
I landed myself a job in construction and that's where I stayed until a recent 'restructure' saw me laid off.
So naturally you became a jewellery designer… Hang on. What the what?
Cheeky Little Monkeys Jewellery started as a sideline to keep me sane.
I was looking for something to do after the kids went to bed that wasn't TV. I was tired and would want to collapse on the couch and just do nothing. But too many nights in a row of this and I just felt like a sloth.
I needed a hobby. Something to do that didn't involve a screen. My hobbies have always revolved around sport but it's harder with kids. I can't constantly dash off and leave hubby at home with the kids every night.
I love unusual earrings and I found it hard to find things I liked. I started thinking if I like unusual earrings, maybe others would too. I would often get comments from people on the earrings I wore.
I had no previous experience in jewellery making. When I lived in Vincentia (south coast NSW) there was a little bead shop where you could choose your own beads and they would custom make the jewellery for you, or help you do it yourself. I was pretty hopeless at it, though I tried.
I figured I could manage it if I didn't create them totally from scratch. I could picture the type of earring I wanted to design, I just needed the elements. Like miniature red pegs, I thought they'd be cute. They've turned out to be my best seller.
I practised using a DIY jewellery craft kit a friend had given me. I wanted to see if I would enjoy it. I botched half of it and ended up with two pairs of earrings that didn't look anything like the ones on the box.
I started having design ideas. I've always loved miniatures. I loved doll houses as a kid but never had one.
The miniature soft drink cans were my first earrings. From there I went on to make quirky, fun stuff that I like to wear and hoped others would too.
I put some money into buying the elements and putting them together. Slowly I got the hang of it and learned to create the fabulous earrings I sell now through my Etsy shop.
My personal favourites are the miniature food earrings. They're unique. I especially love the mini Tim Tams, though I can't wear them myself as they get lost against my dark brown hair!
The top sellers are definitely the pegs, which come in a range of colours. I found them during a random wander at a local craft shop while waiting for my international stock to arrive.
Since my redundancy I'm focussing on Cheeky Little Monkeys Jewellery as a full time business. The hours fit well around caring for my girls and I love creating fun, funky and kitsch pieces of jewellery. I've recently added necklaces to my collections.
Check out the Cheeky Little Monkeys Jewellery Facebook page for the latest on fun, funky and kitsch jewellery from Lenneke.
Buy online at the Cheeky Little Monkeys Jewellery Etsy store. Prices start from just $6.00 for the miniature pegs.
Giveaway! Now closed, sorry:-( Congratulations to our winners, Wendy and Jody!
Cheeky Little Monkeys Jewellery is giving TWO  lucky readers the chance to win TWO pairs of earrings each (yes, you get to pick which ones!).
TO ENTER:
Simply answer this question in the comments section below: Which pair of earrings would you choose (give the number between 1 and 8 from the picture below) and WHY?
Ts&Cs: This giveaway is open to Australian residents only, closing at 5pm on Monday 24 November 2014. This is a game of skill, the winners will be chosen based on their answer. The judge's decision is final. The winner will be announced on this page and will be notified by email. The winner will have 48 hours to respond with a mailing address for the prize pack to be forwarded to, and their selection of earrings, or the prize will be redrawn. The winner's name and mailing address will be forwarded to Cheeky Little Monkeys Jewellery or its representatives for the purpose of the prize being posted.
Linking with Essentially Jess for #IBOT and Grace for FYBF:-)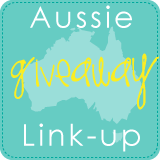 Hosted by Kellie O'Brien Media